Varied roles
As a part of the fundraising team, your focus will be on supporting the Dorothy House community to raise vital funds for the Hospice. You might be a part of the supporter care team, looking after our fundraisers. You might be responsible for brainstorming and arranging large-scale events or appeals. Or, you might be working with key corporate partners and stakeholders, writing cases for support and grant applications. Whatever your role, you'll be satisfied knowing that every penny goes towards supporting patients when they need us the most.
We Care
for one another with compassionate, purposeful and authentic leadership
We Connect
with each other and across our organisation to deliver excellence
We Create
opportunities to innovate, learn and develop together
At Dorothy House the principles of equality, diversity and inclusivity are inherent to our values, and central to our work as an outstanding care provider and employer.
Employee support
We know that encouraging a good work life balance and offering comprehensive wellbeing support is paramount to getting the most from our people.  We offer employees access to a 24/7 confidential support helpline, a suite of wellbeing resources, and free financial wellbeing sessions with an independent financial adviser. Many of our roles can be worked flexibly, with a hybrid approach to working from home or at the Winsley site.
Life as
As a Community & Events Fundraiser, you will look after fundraisers across our patch, as well managing key Dorothy House fundraising events such as the Midnight Walk and our brilliant Santa and Elf Run. No two days are the same in this people-focused, fast-paced environment. And you will be safe in the knowledge that every penny you help raise goes towards vital patient care.
Dan Varley, who works in our Winsley office as a community and events fundraiser, tells us about his varied and busy role
Salary
We offer competitive salaries across all of our roles, reviewed annually.
Holiday
We offer a generous holiday allowance for all roles, starting at 27 days (plus public holidays) and increasing with length of service up to 33 days.
Pension
If you contribute 3% to your Aviva pension scheme, we will contribute 7%. Or you can bring your NHS pension with you.
Life Assurance
Death in service scheme providing a payment of 2 ½ annual salary to your loved ones.
Travel and parking
We offer 45p per mile (currently enhanced due to fuel costs) for work travel. There is unlimited free parking in Winsley.
Cycle to work Scheme
Through a "salary sacrifice" scheme you can buy a bike with great discounts.
Employee Counselling Scheme
Offering up to six free counselling sessions, either face-to-face or online.
Mindful Employer Charter
Providing access to information, advice, local support and training to help staff experiencing stress, anxiety, depression and other mental health conditions.
Simply Health
Providing insurance against certain everyday healthcare costs such as dental and optical treatments.
Refreshments
At Winsley we offer subsidised meals, snacks and free tea and coffee.
Staff discount
25% discount on purchases in our shops and our Ubiety range.
Wellbeing resources
A suite of wellbeing resources, advice and support is available to all on our intranet.
Learning & development
Our dedicated education and research teams offer a variety of personal and professional development training, helping you to maximise your potential. From mentoring and coaching, to specific topic-led courses, we design our learning opportunities around the needs of the workforce.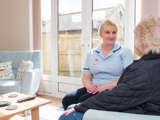 Every day is different and challenging, and I feel privileged to be let into the lives and homes of our patients
Elaine Kynaston, Dorothy House carer
Dorothy House is at the end of a phone whenever you need advice or reassurance. There's just something about all the staff – they're so approachable.
Angela Selman, DH patient, 2022
I was a Hospice at Home carer for thirty years. I think we all feel privileged to do it. It's an honour to be with people at the very end of life.
Maggie Matthews, Dorothy House carer
I cannot put into words what a difference your carers made at such a dark time, and I will always be truly grateful.
Family of a patient, 2021
Anyone who works for Dorothy House is passionate about what we do. We're like a family –we agree on our values and our mission and that comes through more than anything
Sue Spanswick, Dorothy House carer
It sounds a cliché, but every day really is totally different and I get to work with some amazing people
Debbie Russell, Mobile Deputy Shop Manager
I really wanted to work for Dorothy house after seeing first-hand the quality of care they provided. I applied for hospice at home carer role, and was thrilled to be offered a position.
Julia Harper, Dorothy House carer
My role at Dorothy House feels more meaningful than any of my previous corporate experience. Things here really matter, and it is so rewarding playing my part in helping us be there for patients and families
Rhiannon Eveleigh, Corporate Communications, 2022